Austal Australia and Gotland sign mou to develop design for 130 metre high speed catamaran
Austal Australia and the Gotland Company of Sweden have signed a Memorandum of Understanding (MOU) for the design of Gotland Company's upcoming catamaran.
'Gotland Horizon X' is a 130 metre long high-speed catamaran that will be able to operate on hydrogen and other fossil free fuels and will be used in the traffic between the Swedish mainland and the island of Gotland; transporting 1,650 passengers and 450 vehicles at speeds up to 35 knots.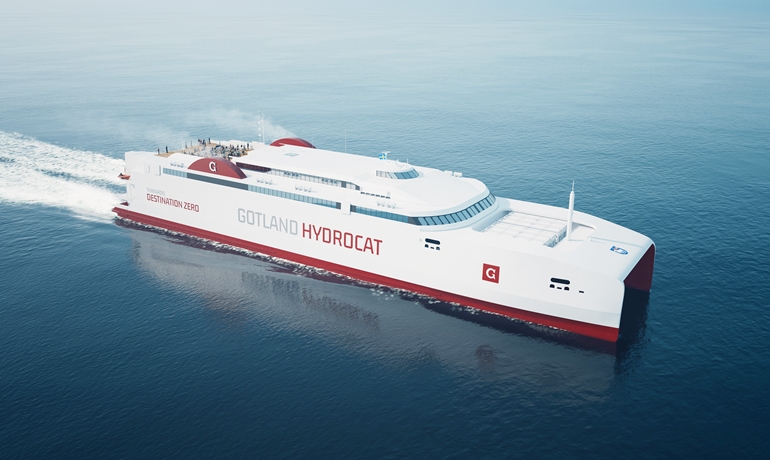 Under the MOU, the parties intend to enter a design agreement whereby Austal and the Gotland Company will develop the design for the high-speed catamaran with a multi-fuel solution that allows it to also operate on fossil free fuels, including hydrogen.
Austal Limited Chief Executive Officer Paddy Gregg said "This agreement with the Gotland Company confirms Austal is ready to finalise the design, ready for construction, of a new 130 metre, hydrogen powered, high-speed catamaran that is yet another pathway forward to net zero emissions.
"Austal has developed vessel designs optimised for various fuel and propulsion technologies, including hydrogen and electricity, that offer a real choice to operators of high speed craft. We look forward to working with the Gotland Company to finalise an exciting new design of the highest standards," he added.

Håkan Johansson CEO of Gotland Company said "This is an important step in our climate journey. We are working on developing our future ships, and in 2022 we presented the second ship model in our Horizon series: Gotland Horizon X. This high-speed catamaran can operate on hydrogen and other fossil free fuels. The vessel will be a very good addition to the traffic between the Swedish mainland and Gotland. She will be used foremost during the summer months and make the trip to and from Gotland in under three hours.
"The ship design is based on Gotland's, and our passengers needs to be able to travel with a short transit time to competitive prices, without burdening the climate or environment. We will develop and number of features with the goal to minimize the energy demand and ensure maximum efficiency; an optimal hull design, minimize the weight, optimize the consumed energy on board," Mr Johannson added.
Christer Bruzelius, Head of Gotland Tech Development said "Austal is a leading company within development and productions of large catamarans and is the perfect partner in continuing the development of Gotland Horizon X."
For Austal, the MOU with Gotland is another demonstration of Austal's commitment to designing, building and sustaining future-ready fast ferries.
Gotland Company has previously presented a large passenger and freight vessel, with capacity for 1,900 passengers and 600 vehicles. The plan is to have at least one of the ships in traffic before 2030.
RELATED NEWS