Purus Wind signs order with Damen Shipyards for eight, low-emission vessels for wind farm operations
Damen Shipyards and offshore wind services provider Purus Wind have signed a contract for the build and delivery of eight new vessels. Four Damen Fast Crew Supplier (FCS) 2710 Hybrid and three Damen FCS 3210 Hybrid Crew Transfer Vessels (CTVs) and one, 90-metre Construction Service Operation Vessel (CSOV).
The FCS 3210s and the CSOV will not only be equipped for ultra-low emission operations, but they have also been designed to be upgraded to methanol-fuelled engines when the time comes. The order is part of Purus Wind's strategy to be a leading provider of low-carbon, offshore wind support vessels to meet the needs of the clean energy industry as its members set out to decarbonize.
The new Hybrid FCS 2710s will join the three other Hybrids that Purus Wind's High-Speed Transfers ordered from Damen in the second half of 2022. In line with Damen's commitment to continuous design improvement, they will be updated with the latest design adjustments such as an improved wheelhouse window arrangement and bridge console lay-out. The twin axe hull form ensures excellent stability and fuel economy as well as providing extensive deck space and accommodation.
The larger FCS 3210s are a new design that use the same twin axe hull form and share many of the same attributes as the FCS 2710s. As with the new FCS 2710s, a hybrid battery package for zero-emissions sailing is integrated into the design. The greater length allows for additional space for crew and passengers, making it more comfortable during operations. Space is also reserved for possible conversion to methanol fuel.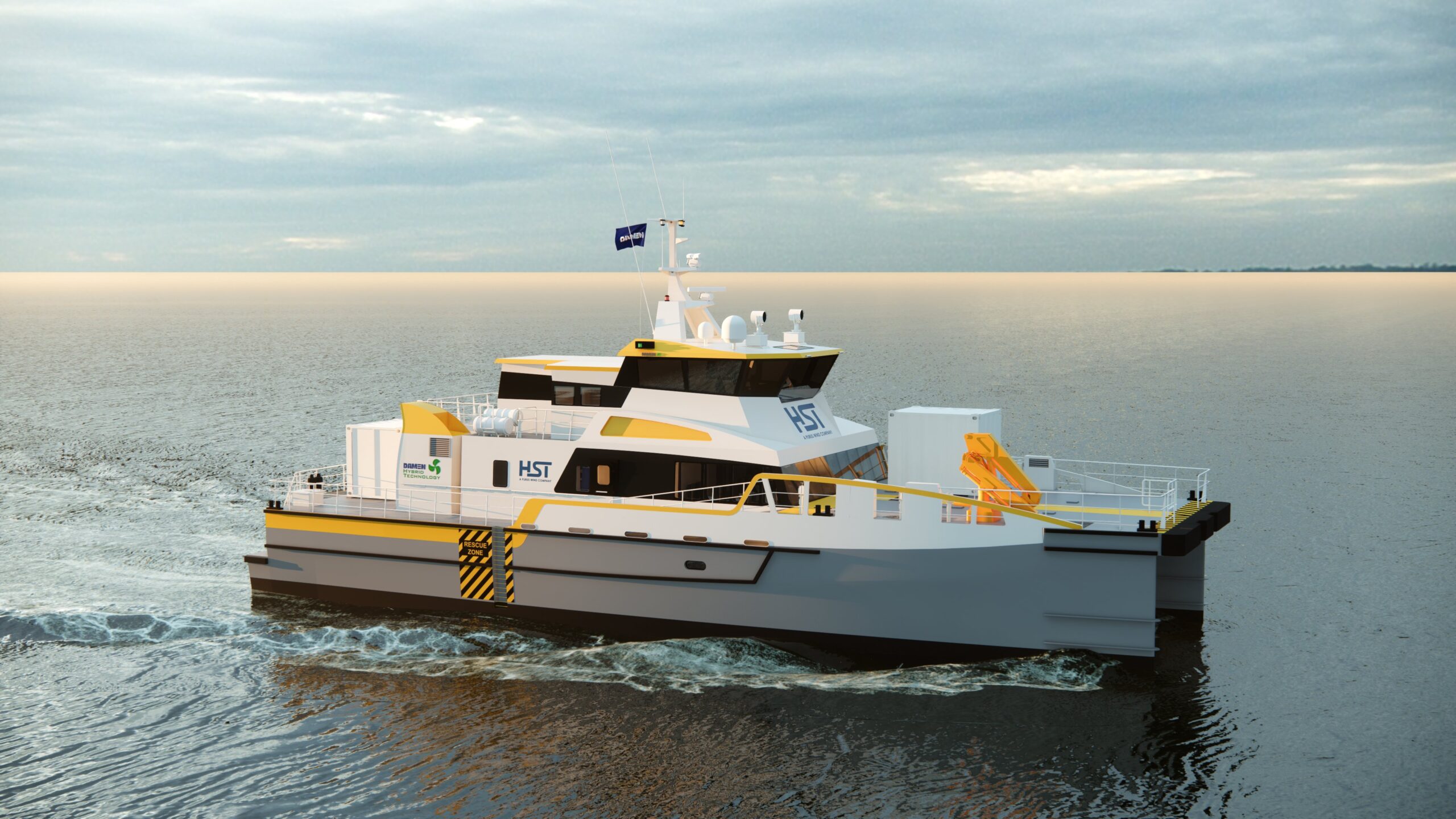 An exhaust gas aftertreatment system is included to ensure that the vessels are IMO Tier III compliant. The FCS 3210s are designed for longer distances serving wind parks further from shore and offer the possibility of staying longer at sea. High Speed Transfers has contributed its operational experience to the design and engineering of the FCS 3210 from the outset to ensure that it sets a new level of capability for its class.
The latest vessel in the 90-metre Damen CSOV Series will be highly versatile and capable of carrying up to 120 persons in comfort for up to thirty days at a time. In addition to the diesel / electric propulsion system and battery array, innovative features include a hull design that is almost symmetrical fore and aft below the waterline, on which will be mounted Damen's DPX-Drive. This has four identical thruster units – two forward and two aft – for highly precise manoeuvring and station keeping.
Other features include excellent stability due to its design, which is further enhanced by a large anti-roll tank. A motion-compensated gangway and crane will also ensure smooth transfers of personnel and equipment. Like the CTVs, it has space reserved for additional battery capacity as and when it is required and will also be pre-prepared for both conversion to methanol engines and offshore charging.
"These vessels will support a pathway for our clients to decarbonize their operations and to maintain our position as a leader with the lowest carbon offshore wind support fleet," said Tom Nevin, CEO of HST and Business Head of Purus Wind. "We are incredibly pleased to be continuing our relationship with Damen, having been the launching client for the FCS 2710 and the FCS 2710 Hybrid, and now the FCS 3210 Hybrid. We are also very excited about the potential of what will be our first hybrid vessels with the ability convert to methanol."
"Damen is exceptionally proud of this unique order," added Frederik van der Linde, Sales Manager United Kingdom and Ireland. "The design team responsible for the FCS 2710s and FCS 3210s and the design team responsible for the CSOV range have put a tremendous amount of effort into this project. The input of Tom Nevin and his team was vital for us as well."

"An enormous amount of emphasis has been placed on maximizing both innovation and sustainability. This project is a true testimony of our commitment to our goal of becoming the world's most sustainable shipbuilder. It is a pleasure to be working with Purus Wind once again, an organisation that shares so many of our goals. We look forward to building and delivering these vessels and to further cooperation in the future."
The new vessels are scheduled to be delivered between 2024 and early 2027.
RELATED NEWS