CCS assisted the 30,000 cubic meters 'Offshore Oil 301' to achieve successful completion of the first bonded LNG bunkering
On the 18th of January, both China's first 30,000 cubic meters LNG bunkering ship "Offshore Oil 301" – originally a LNG carrier, and CMA CGM's 23,000TEU dual-fuel container ship " CMA CGM CONCORDE" that are classed by China Classification Society (CCS), successfully completed their LNG bunkering in Shenzhen Yantian Harbour. CCS played the main role to assist the ship to its first bonded LNG bunkering.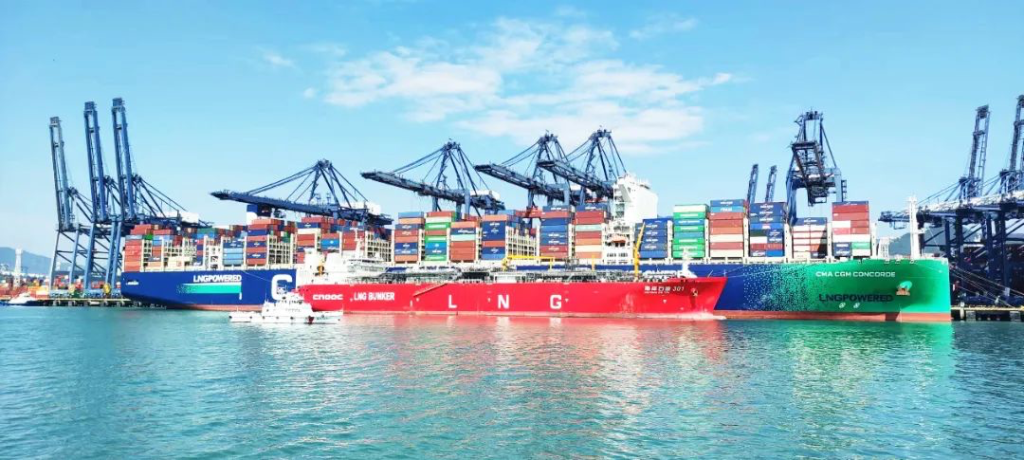 The 30,000 cubic meters LNG bunkering ship "Offshore Oil 301" is the first modified LNG bunkering ship in China to meet standards of the CCS "Code for Liquefied Gas Fuelling Ships",it is classed by CCS and it is awarded to the notation of LNG Bunkering Ship. Plan approval and construction inspection for the transformation of "Offshore Oil 301" were completed solely by CCS. From the beginning of refitting stage till it is put into service, CCS participated in the project implementation throughout the whole process, independently accomplished the ship's plan approval, construction inspection and bunkering synchronous operation for risk assessment, they also completed the update version for ship regulation and bunkering operation guidelines, carried out researches in simultaneous operation and so on. All these hard work showed CCS's dedication in technological innovation towards the aims of global emission needs.
In order to ensure the bunkering operation running smoothly and safely, in 2022, CNOOC (Shenzhen) International Marine Clean Energy Co., Ltd consigned CCS Wuhan Normative Institute to carry out research specialized in International LNG bunkering and to provide reports for technical services catalogue.
For this particular LNG bunkering, CCS risk assessment team took into account the compatibility between the LNG bunkering ship and the receiving ship, environmental factors of port and berth area, characteristics of refuelling and container handlings etc, they firstly worked closely with senior marine experts to identify any possible risks on an individual basis that might be occurred during the bunkering operation, followed by establishing a three-dimensional model to carry out quantitative evaluation. A complete and sufficient risk assessment was concluded and suggestions of risk control measures were given.
In addition, CCS specialists proposed the conditions and safety precautions for LNG bunkering ship to enable simultaneous operations in Shenzhen Yantian Harbour. They also set out the emergency plans for LNG bunkering ships to sail, berthing, enable simultaneous operations within the port to ensure the bunkering operations are securely completed.
Source: China Classification Society
RELATED NEWS