Strategic Marine signs MOU for three brevity-class hybrid crew transfer vessels with HST Marine
Strategic Marine has signed a Memorandum of Understanding with Purus Wind's HST Marine to build three Brevity-class Crew Transfer Vessels for the UK-based offshore vessel owner-operator.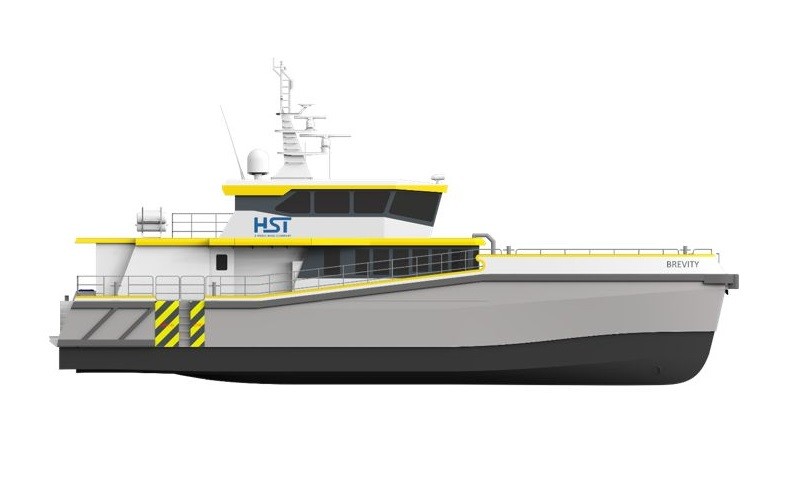 The agreement binds the two parties to negotiations on a vessel building contract for the Chartwell Marine-designed 27m catamarans.
The Brevity-class designs, launched in June 2022, are specifically designed to meet the needs of the offshore wind support vessel market and Strategic Marine has previously committed to build three vessels with progressive deliveries from 2024.
The Brevity-class CTV is part of Chartwell Marine's new offshore wind support vessel range and is specifically designed to meet the rigorous demands of the market.
The high-powered CTV features enhanced manoeuvrability and stability due to its signature hull form optimisation. This also ensures cost-effective and low-emissions operation via its hybrid systems, a growing requirement of the offshore wind industry and marine decarbonisation efforts.
The vessel has a capacity of up to 32 personnel. Multiple crew configurations enable flexibility in space planning and enhance comfort and crew welfare during long offshore stays.
In addition to the Chartwell Marine-designed vessels in its fleet, HST Marine's choice to work with Strategic Marine on more newbuilds soon after signing a significant contract to build four hybrid CTVs shows its confidence in the company.
Acquired by low-carbon maritime energy transportation and infrastructure systems provider Purus Marine in 2022 and now under its offshore wind business Purus Wind, HST Marine has been rapidly expanding its current fleet of vessels. Strategic Marine's build programme has played a crucial role in facilitating HST Marine's quick ramp-up during dynamic market conditions.
In January, Strategic Marine sealed a deal to build four hybrid CTVs for HST Marine with options for two more vessels.
Mr Tom Nevin, CEO of HST Marine and Business Head of Purus Wind says: "We have been impressed with Strategic Marine when working on our exciting new hybrid CTV project and really hope to conclude a mutually favourable agreement soon.  This is just the latest example of how we are working with specialised partners to grow our fleet of low carbon vessels for supporting offshore wind operations which in addition to CTVs, also includes expanding our fleet of hybrid C/SOVs."
Strategic Marine's CEO, Mr Chan Eng Yew says: "We are excited to be working on yet another project with HST Marine.
"We appreciate the confidence shown in us by this dynamic new player in the offshore wind industry and look forward to meeting their high standards and tight delivery needs with our trademark reliability and reputation for high quality."
Source: Strategic Marine
RELATED NEWS