China Classification Society, SDTR and SDARI develop new Ammonia-Fueled Bulk Carrier
Recently, China Classification Society (CCS), together with Singapore's SDTR Marine Pte Ltd. (SDTR) and Shanghai's Merchant Ship Design & Research Institute (SDARI), jointly developed the world's first 85,000DWT Ammonia-Fueled Bulk Carrier. A cloud certification ceremony was held, on behalf of CCSHQ, whom issued an Approval in Principle (AIP) for the project to SDTR and SDARI.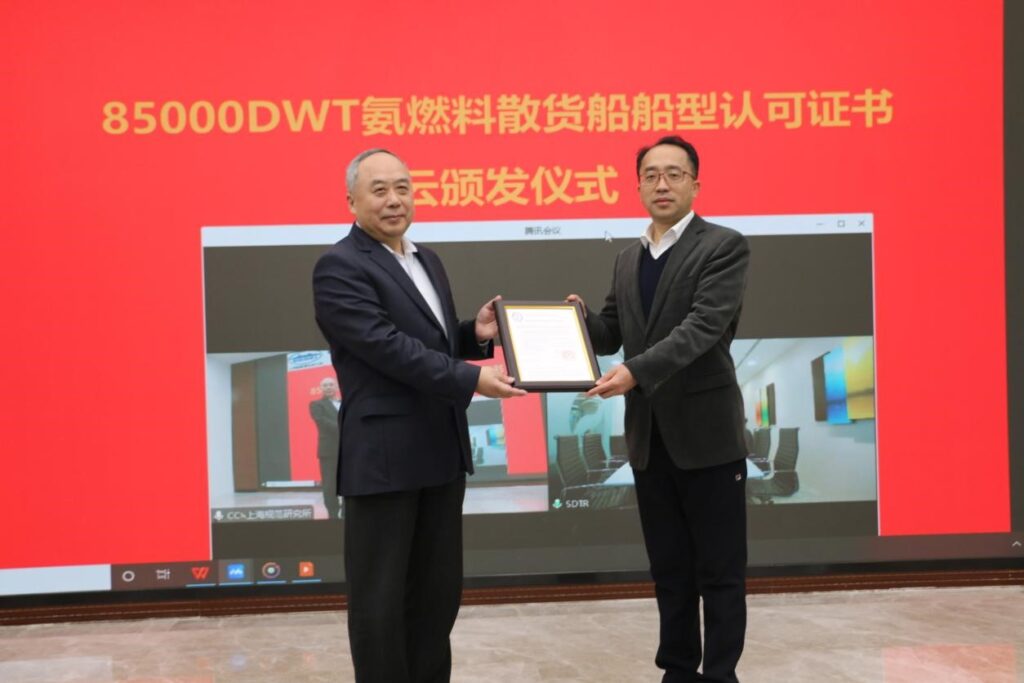 With the development of green emission reduction rules and technology in the shipping industry, ammonia fuel, as an alternative green and clean fuel. Ammonia is regarded as a great potential for application and has attracted much attention from the maritime industry. In 2022, SDTR, SDARI and CCS set up a joint development project team. SDTR shared crucial and key operational data, essential for development; and SDARI conducted the design, with CCS support and reviews.
During the ceremony, Mr. Gao Dehui, SDTR CEO, expressed that this 85,000DWT ammonia-fueled bulk carrier project is a milestone for SDTR's Green and Sustainability Policy, of which is to develop a more environmentally friendly fleet is one of the key mission.  We are looking forward to early implementation of the project with all parties' involved cooperation .
SDARI Vice President, Mr. Zhou Zhiyong said that SDARI applied the latest hydrodynamic and new energy technologies to this vessel, and hopes to create a star product to lead the industry.
CCS Singapore Branch General Manager, Mr. Chen Zili expressed that the branch will provide SDTR with the best on-site technical services and deepen cooperation with all parties to a new level.
CCS Shanghai Institute Director, Mr. Wang Zhirong thanked all parties for their joint efforts and mutual support and said that the Institute will continue to play its technical advantages and experiences, serve SDTR and SDARI well and help on the development of new energy vessel models and new technology application.
Source China Classification Society
RELATED NEWS