What's best for the customer? Secrets of Çeliktrans Shipyard
Turkish shipbuilding is strikingly different from classical European shipbuilding with its history, science and rigor. Having absorbed the best and, most importantly, profitable technologies, the industry in this country has managed to become competitive and really commercially successful. The good climate and geographical location play an important role, but the organization of production and work with orders and customers also contributes significantly to efficiency.
It was recently reported that the Icelandic company Nautic ehf. performed the design of the trawler, which is being built at the Turkish Çeliktrans Shipyard. The customer of the vessel is one of Iceland's largest fishing operators.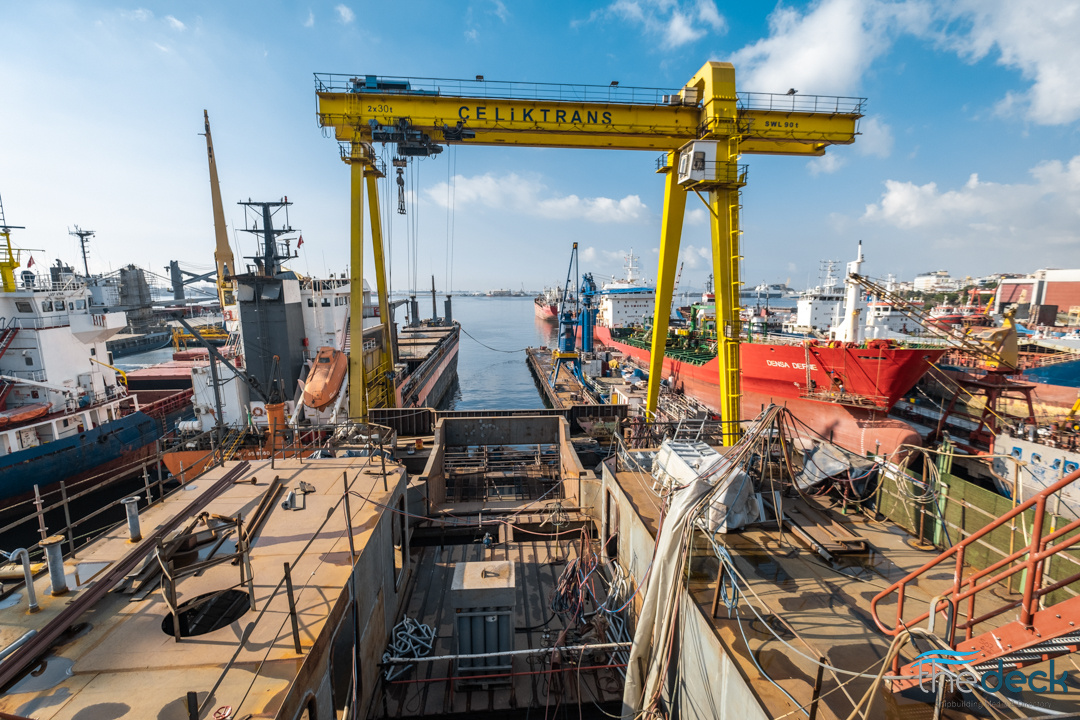 Shipyard Director Volcan Urun told portal «The Deck» how the trawler is being built, what the special features of the project are and in general how ships and vessels are built in Turkey.
The Deck: Tell us about the history of the shipyard. What were the first orders?
Çeliktrans: Çeliktrans Deniz İnşaat Ltd. was founded on the European side of the Bosphorus in 1958 with its first workshop and slipway. Not all companies had their own slipway in those days. That's when the first vessel with a steel hull was built. Over more than 50 years of operation, the company has delivered 63 vessels of various types. This includes not only ship repairs, but also upgrades, replacement of main engines, propulsion and overhauls.
In 1984, because of the government policy to relocate factories to an industrial area with suitable infrastructure, the Çeliktrans shipyard moved from its former location on the Bosphorus to a new site in Tuzla, and already in 1992 the company was transferred to its current shareholders. Since then, the shipyard has modernized and invested heavily in its facilities.
While initially the company worked only with customers from Turkey, in recent years the shipyard has started to enter into contracts for the construction of ships for foreign shipowners as well. Among the vessels delivered by the shipyard in the last two decades are two big trawlers, an ice-class container ship of 5200 tons deadweight, a chemical tanker of 2800 tons deadweight also of ice-class type, a number of complex fishing vessels, ferries, tugs and so on.
The Deck: What types of ships are you building now? Do you have a specialization or preference by type?
Çeliktrans: It's no secret, when you build a type of vessel for the first time, it's always difficult. For example, in 2003 we mastered the technology of tanker construction. In total we delivered 13 vessels of this type to our customers, and at that time it seemed that it would be easy to build tankers. I think we could do it even blindly.
For the last 12 years we have been dealing mainly with fishing vessels. And compared to the rest of the commercial fleet, they are more complicated to build. But over the years we have mastered all the intricacies of working with trawlers, seiners and the like. The process is much easier now than when we first started it.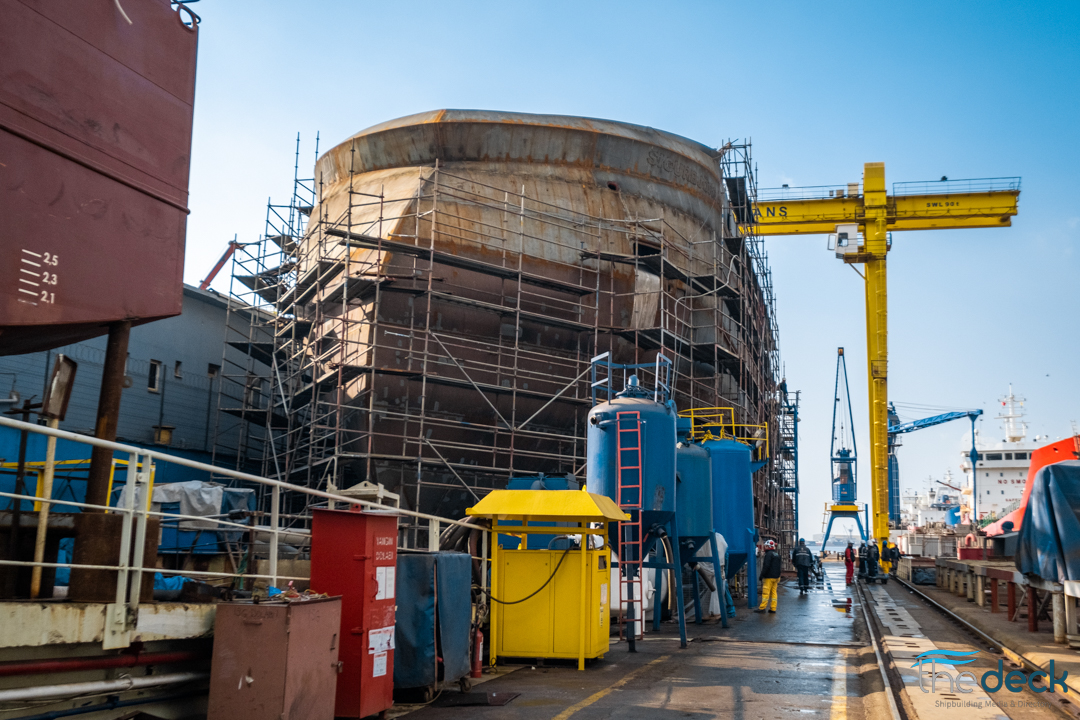 After all, shipbuilding is not only and not so much a shipyard. I built more than half of all the vessels delivered by Çeliktrans outside my shipyard. We simply rent spare capacity from other companies. The hull can be built elsewhere, as our capacity is very modest. But that's not what's important, shipbuilding is about managing the process properly.
It doesn't matter how much capacity you have. If you know how to manage correctly, you can use the capacity of other shipyards. It's the ability to put all the pieces together. A quality ship design is also important. Much more convenient and easier to work with high-quality design documentation.
The Deck:  What is the production capacity of the company?
Çeliktrans: At our shipyard we can build vessels with a deadweight of up to 5,500 tons and repair vessels with a deadweight of up to 90,000 tons with a maximum draft of 5.3 meters. The dimensions of the inclined slipway are 100 × 15 m, the capacity of the gantry crane on the slipway is 90 tons.
But these are just figures. In fact, if the customer needs more serious capacities, we have an opportunity to involve floating cranes with the lifting capacity up to 2000 tons or part of the dry dock of 300 × 70 m for the required tasks.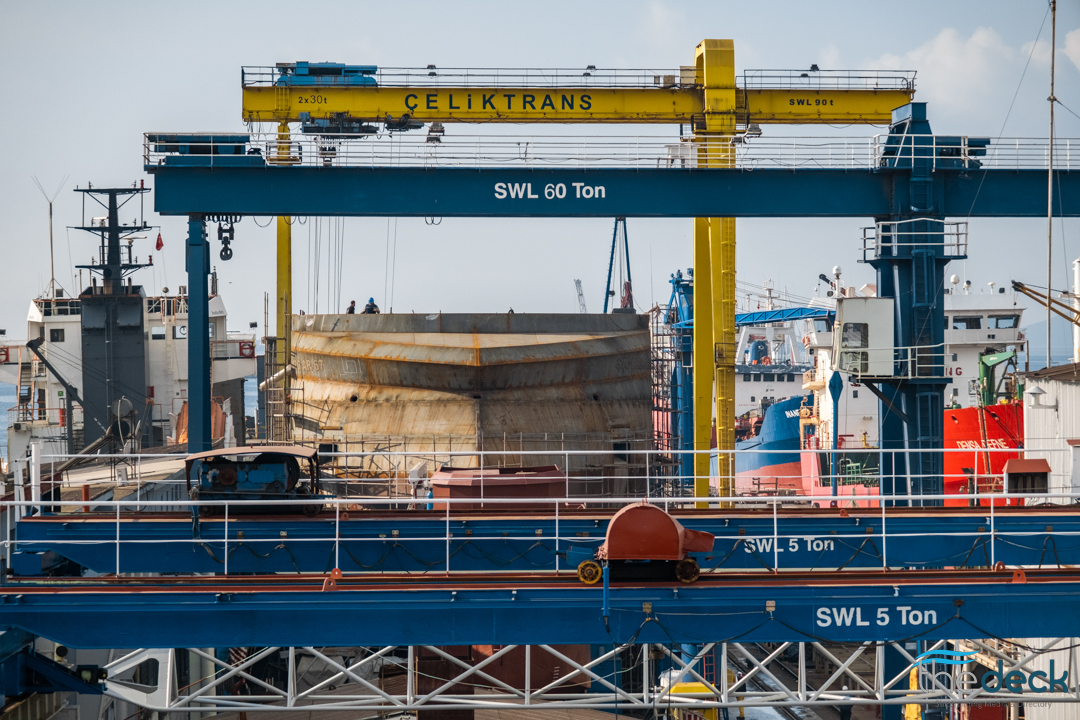 The Deck:  Who are the shipyard's main customers?
Çeliktrans: Part of the order portfolio is provided by Turkish companies, among foreign customers – mainly ship owners from Scandinavia and the Baltic states.
The Deck:  In Turkey, and in the Istanbul agglomeration in particular, there are a lot of shipyards. Accordingly, there is a lot of competition. What makes Çeliktrans different from its colleagues?
Çeliktrans: Some of our competitors are larger than us in terms of plant area, slipways, docks, and other things. But nevertheless we have a very experienced and coordinated team that has been working together for many years. By the way, our engineers act as subcontractors on other projects, including very important ones.
We have virtually no personnel changes. If you just go to the slipway and ask any worker how long he has been here, the answer is at least ten years. And the same can be said about subcontractors. For the last 25 years we have been working with the same subcontractors. For metal work, installation of pipelines, shipboard insulation.
At one time I started working here as a purchasing manager myself, then I was in charge of the legal department, and later became a business development manager. So I know all the stages of construction management thoroughly. It may be that when you are looking for a shipyard to build a boat and you talk to the managers, they will tell you a lot about certain benefits and advantages. But when it comes to actual production, they won't be able to tell you anything.
It turns out that the difference between us is that I know my shipyard and all the processes like the back of my hand. Accordingly, I can tell the customer where to save money or how to optimize the price. Of course, everyone is imperfect. But we tend to draw the right conclusions from our mistakes, we always take care of our customers. And that is exactly what ensures the reliability of construction and brings more orders.
Now we cooperate a lot with Icelandic companies. And to prove our reliability, we work in such a way that we can say that we are not the biggest, but the most efficient.
The Deck:  You touched on the subject of pricing. Does your pricing compare favorably with your colleagues and competitors, or do you work in the market price?
Çeliktrans: Price is an important argument when working with customers. And price is most important when you work with a small company like us. Shipyard overheads are always low compared to larger competitors.
For example, we can work with two orders at the same time. Some facilities need five orders at the same time to recoup , and some need all eight. So it always depends on how many projects you are dealing with. Therefore, when there is a lack of orders, the price for small businesses will be much less.
The Deck:  How many ships do you build per year on average?
Çeliktrans: The average number is not indicative. For example, we built three small vessels in 2017, only one vessel in 2019, and three in 2021, including two tugboats. The number of orders varies from year to year.
The Deck:  Which markets are most important to you?
Çeliktrans: Every market and every client is important to us. As we have recently focused on building fishing vessels, I look at the Çeliktrans shipyard as a link in the food supply chain for the ever-growing demand for food in the world.
Fish in the ocean do not have a country-specific passport. And it is important to be able to provide quality fishing vessels at a competitive price to any customer, worldwide. We can only be proud to be part of such an important cause as providing food for the world's population.
The reality is that the fishing industry is extremely compact. Almost all of our customers want the same thing – a good fishing vessel and at a good price! And that is exactly what we can provide. This is exactly the hallmark of the whole Turkish shipbuilding industry – we are not just specialists in our field, but are extremely resourceful when it comes to meeting targets and deadlines. Plus we take real pride in our work.
The Deck:  Can you tell us about any vessel you have built for fishing recently?
Çeliktrans: In short, it was a vessel with the distinctive Enduro Bow – this was the customer's wish. The trawler is 48.1 meters long and 14 meters wide and is designed to catch cod, pollack, haddock, plaice, perch, herring, mackerel, squid, shrimp and other aquatic biological resources. The vessel guts and cools fish for further processing onshore, with a hold capacity of 630 cubic meters.
The vessel is equipped with four trawl winches and is capable of fishing with three trawls simultaneously. A fish processing area of 285 square meters is provided for the primary processing of the catch. The main propulsion system has a capacity of 1,795 kW and a crew of 16.
The Deck:  How important is the shipbuilding industry to the Turkish economy?
Çeliktrans: The shipbuilding industry is growing steadily from year to year. And if you add profit from ship repair, the growth will be even more significant. This year, total exports in the shipbuilding industry alone were estimated at about 1.5 billion euros. Whereas three or four years ago these figures didn't even reach 1 billion.
If we talk specifically about ship repair, another billion euros will come from it, because it is now a rapidly growing industry. But if you compare these figures with other industries, say with tourism, then, of course, here shipbuilding is not in first place. Experts understand that no fabulous money can be earned on ship and vessel construction. It is prestige for the country.
And I assure you that I cannot fulfill myself by selling bananas, for example. But in shipbuilding I may make less money than banana sellers, but I am truly happy. There is another important point worth noting. Our team, together with our subcontractors, consists of 300 people. Let's say they have wives and two children each. And it turns out that this work feeds more than 1,000 people at ours alone. And there are 52 shipyards around Tuzla, and some of them employ many, many more people.
Jobs, competent management and planning are the key to the successful development of any state. That is why every country needs what we can call industry. And this is not necessarily shipbuilding. But every country has its own strong industries that can be called strategic. In Turkey, such a strategic industry is shipbuilding.
RELATED NEWS