The ST-119 PFC super trawler keel is laid in Türkiye for Tikhrybkom
The keel of a large fishing trawler of the ST-119 PFC project for the Pacific Fisheries Company was laid on 21 January at the Tersan shipyard in Turkey. The event took place in a festive atmosphere and was attended by a Russian delegation.
The delegation included Deputy CEO Nikolay Kotov, Chief Engineer Vyacheslav Stepanov and the company's technical staff, representatives of the Russian Maritime Register and the Norwegian design company Skipsteknisk AS.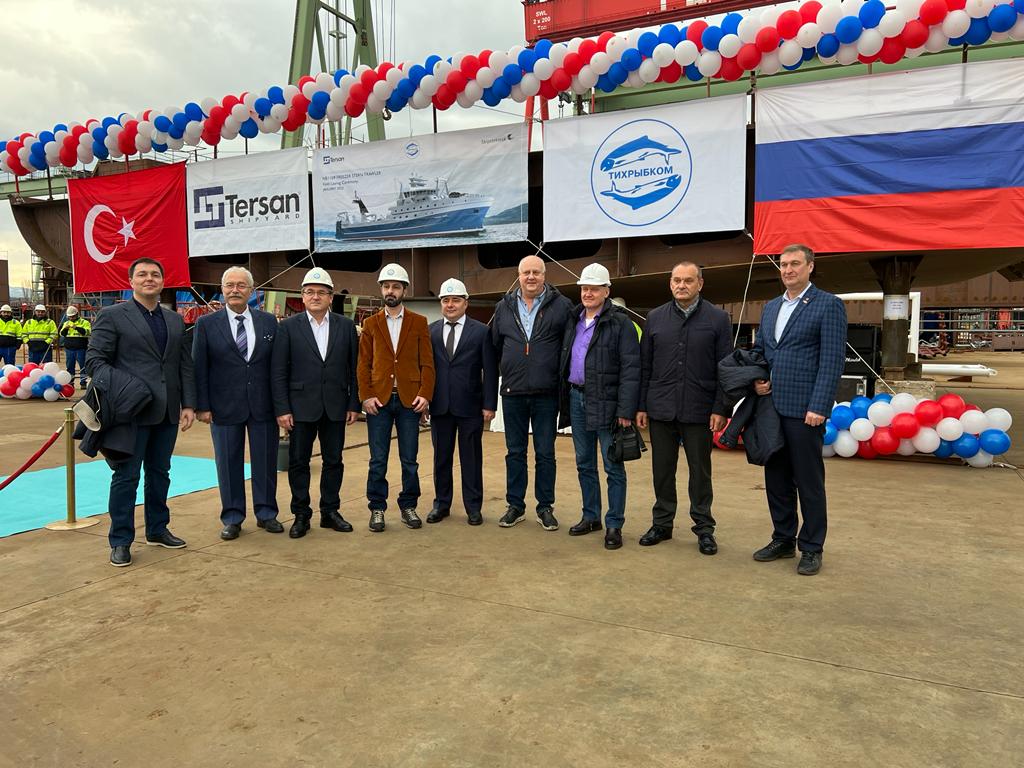 Now Tikhrybkom specialists together with the Norwegian designer are reviewing technical documentation for navigational and fishing equipment for the trawler and are adjusting the design taking into account the practical experience of their colleagues from the Kamchatka company Okeanrybflot, which is already operating a Tersan-built fishing vessel and is building a second one.
Mikhail Kotov, the general director of Tikhrybkom and president of the Magadan Association of Fishermen, called the event a landmark and noted that it happened before the contractual deadline.
According to him, the process of fish processing on the vessel will be as automated as possible. The production of the finished product will require almost no manual labour, which will make the work of the crew at sea much easier.
Among other things, the vessel will produce high-end fishmeal and collect fish oil – the raw material for a plant producing the useful Omega-3 food supplement – in special tanks. Its construction in Magadan is gaining momentum.
As a reminder, the new RMRS KM-class feeder trawler is designed for trawling and processing pollock, herring, caviar, mackerel, flounder and squid. Freshly frozen fish will be produced on board as well as fillets, minced meat, frozen Pollock liver and caviar, fish meal and fish oil. The daily processing capacity is 450 tonnes.
Ice class ICE 3, speed over 15 knots. The vessel will be over 90 metres long.
The trawler can accommodate a crew of 111. Each cabin is equipped with a shower and a bathroom.
RELATED NEWS