Singapore's Majestic Fast Ferry Pte Ltd received of three new state-of-the-art passenger ferries
Singapore's Majestic Fast Ferry Pte Ltd has welcomed the arrival of three new Incat Crowther-designed, state-of-the-art passenger ferries. Recently delivered and entering service, Majestic Peace, Majestic Spirit and Majestic Flair are the first of a fleet of nine Generation 2 Incat Crowther 39s vessels to be added to Majestic's current fleet of Incat Crowther fast catamarans.
Built by Indonesian shipyard PT Cahaya Samudra Shipyard, the 39-metre Generation 2 passenger ferries are capable of transporting 312 passengers at speeds of up to 32 knots. The main deck seats all 312 passengers in air-conditioned comfort, while each vessel's design also features large luggage and cargo hold areas and five accessible bathrooms.
The new ferries have been ordered as Majestic's first-generation ferry fleet – also designed by Incat Crowther – has attracted high demand on the global used vessel market due to their quality and efficiency. Majestic Fast Ferry has recently completed deals that will see eleven (11) Generation 1 Incat Crowther ferries – all of which comply with the domestic regulatory requirements in each market – sold to a range of European, Middle Eastern, South Pacific and Asian operators.
Majestic's new fleet of next-generation catamarans has been optimised for flexibility on a range of operations and routes. The optimised design features a new appearance, with a sleek design and updated window aesthetic. An additional wheelchair-accessible toilet has also been added, along with a kiosk on the main deck and optimised passenger flow around the cabin. The positioning of the wheelhouse on the upper deck also provides the captain with an optimal line of sight to further enhance operational safety and efficiency.
Commenting on the delivery of the vessels,Incat Crowther CEO Brett Crowther said the project marks the continuation of a long and successful partnership with Majestic Fast Ferry.
"The launch of Majestic Peace, Majestic Spirit and Majestic Flair is a proud moment for Incat Crowther as these vessels, evolutions of our 39-metre catamaran design, represent the latest milestone in our eight-year partnership with Majestic," said Mr Crowther.

"The long-term thinking that grounds our partnership with Majestic has also been highlighted in the fact that the first-generation ferries we designed for Majestic have held their value on the used market and allowed Majestic to invest in these new start-of-the-art ferries," said Mr Crowther.

"The next-generation, industry-leading vessels ordered by Majestic will provide passengers with a safe, comfortable, and enjoyable experience. With a new 42m, 342-passenger design also on the way, Incat Crowther is pleased to continue our long-standing track record of collaborating with Majestic and PT Cahaya Samudra Shipyard on the design and delivery of high-performance fast ferries," said Mr Crowther.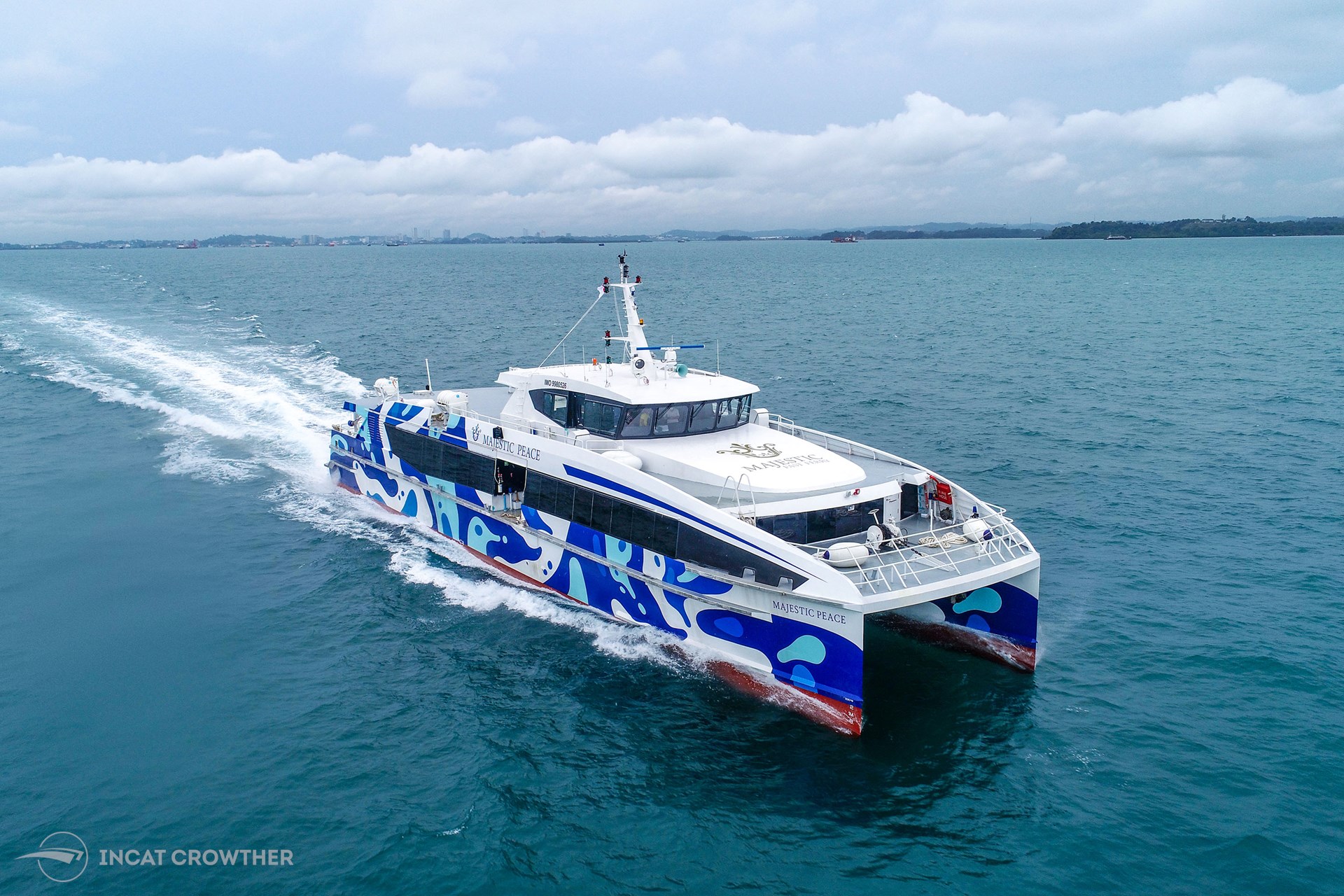 In total, nine more Incat Crowther vessels are in build at PT Cahaya Samudra, including the three new 42m vessels. Majestic Glory and Majestic Honor, the fourth and fifth 39-metre Generation 2 ferries, will be completed and delivered shortly.
Source: Incat Crowther
RELATED NEWS