"Kilimanjaro VIII" delivered to Tanzania
"Kilimanjaro VIII", a new 53-metre passenger ferry designed by leading digital shipbuilder Incat Crowther and built by Hobart-based shipyard Richardson Devine Marine, has been handed over for delivery after undergoing sea trials in Hobart, Tasmania. This was reported by the press service of Incat Crowther.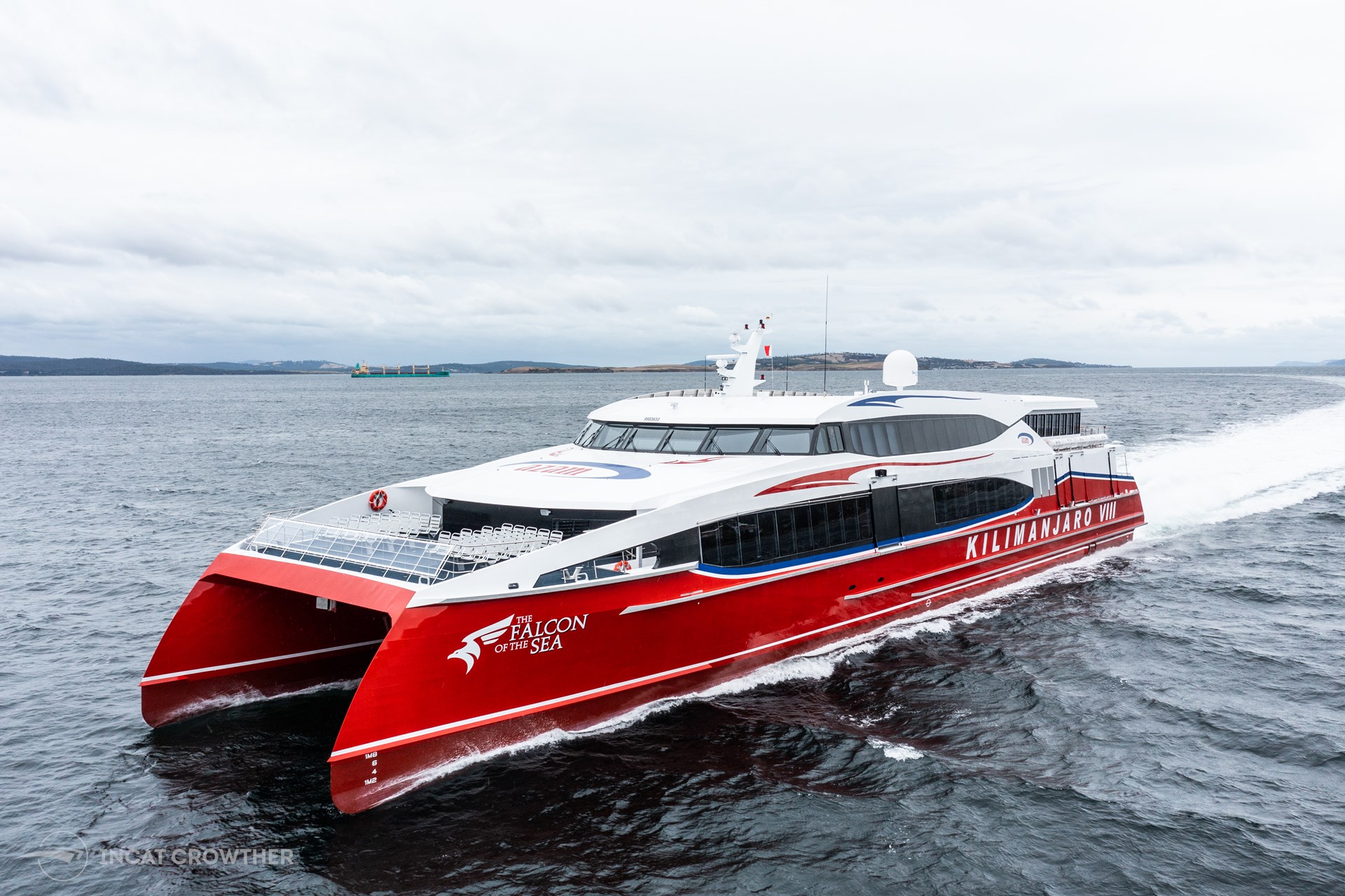 "Kilimanjaro VIII" is the 11th Incat Crowther-designed vessel for Azam Marine and the eighth built by Richardson Devine Marine.
The vessel is larger than its predecessor, "Kilimanjaro VII", and is capable of transporting up to 620 passengers at speeds in excess of 30 knots.
The main deck has an internal capacity of 340 as well as a large kiosk area and five bathrooms.
The mid-deck cabin seats 56 VIP passengers, 16 Royal Class passengers in fully lie-flat seats, and an additional 200 economy passengers as well as four bathrooms. Aft of the man deck cabin, the vessel's luggage room houses up to 10 tonnes of luggage and cargo, whilst IMO HSC code-compliant stability enhances her safety credentials.
Kilimanjaro VIII has been designed for streamlined and efficient boarding featuring Azam Marine's signature parallel boarding system, which sees five ramps per side load passengers and cargo in segregated flows. This proven system increases operational efficiency and safety by ensuring passenger classes and luggage trolleys remain separated during boarding.
Commenting on the project, Incat Crowther CEO Brett Crowther said, "It's great to see Kilimanjaro VIII perform so well on trials and lifted onto the ship for delivery."
"This project represents another milestone in our long and successful collaboration with Azam Marine and Richardson Devine Marine and we've thoroughly enjoyed working with Azam to evolve and expand their fleet. The delivery of Kilimanjaro VIII in Tanzania will re-affirm Azam Marine's position as the country's leading passenger ferry service," said Mr. Crowther.
"Kilimanjaro VIII" represents a modern progression of the fleet's style, with an edginess to her lines and a long, sleek profile. Combined with the introduction of a reverse-bow hull configuration, the vessel will offer passengers a state-of-the-art ride.
"Kilimanjaro VIII" has been handed over Azam Marine and is en route to Tanzania, where it will enter service shortly after delivery.
RELATED NEWS