Damen Shipyards delivers new Multi Cat 2309 to Atlantic Towage & Marine Ltd
On the 12th of April, the Ireland-based marine services company Atlantic Towage & Marine Ltd took delivery of a new Damen Multi Cat 2309 workboat, named "Ocean Energy". The vessel will spearhead Atlantic's push into the European market, with a special focus on the fast-growing offshore renewables sector. This was reported by the press service of the Damen Shipyards.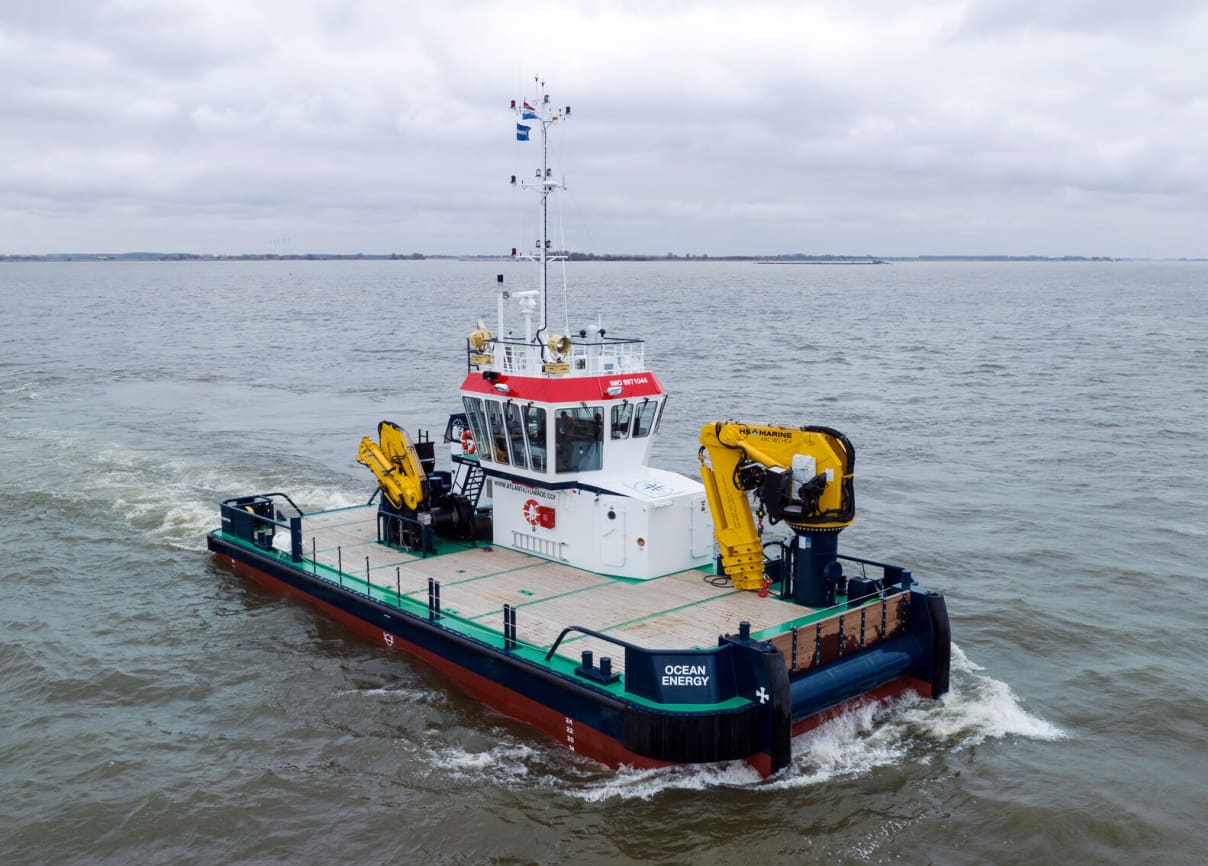 To optimise the vessel for its role, Atlantic Towage has specified a larger forward deck crane AKC 185 HE4 and an AK34 aft deck crane from HS Marine. A DP1 system from Kongsberg synchronizes twin screws aft and a bow thruster for optimum manoeuvrability. Other deck gear includes anchor-handling, towing and tugger winches. Accommodation is for up to seven crew across five cabins.
Ocean Energy is IMO Tier II compliant and the engineering space is pre-prepared for the retrofit of a Damen Marine NOx Reduction System. This uses selective catalytic reduction (SCR) technology to raise a vessel to Tier III compliance and, with the necessary space already available, it can be efficiently fitted when required. While this is the most efficient way to be future-proofed for IMO Tier III, Damen also offers a range of retrofit options to suit most requirements. Additional customisations have been implemented to optimize the vessel for her various roles.
The handover ceremony took place at Damen Shipyards Gorinchem, where the MuC 2309 was fitted out  following the build of her hull and superstructure at Damen Shipyards Koźle. The Lady Sponsor was managing director Sean Harrington's eight-year old daughter Kyla Harrington.
Atlantic Towage was founded in 2008 by Sean Harrington and today operates a fleet of ten vessels that includes tugs, dive support vessels, and multipurpose workboats. This variety allows the company to offer a wide range of services. Ocean Energy will now begin a contract in Danish waters to assist with cable installations.
"I would like to thank all the Damen team for the superb vessel they delivered," said Sean Harrington. "They were a pleasure to deal with and we would have no hesitation in returning to them for our next new vessel."

"Damen is proud to have cooperated closely with Sean during the design phase and build phase" says Frederik van der Linde, Damen's UK and Ireland sales manager. "We look forward to seeing this vessel in operation, supporting the renewables industry. We wish its owner and crew safe passages and every success."
RELATED NEWS