WinGD demonstrates on-engine iCER amid surging interest
WinGD demonstrated its latest X-DF-2.0 technology, on-engine iCER, to several LNG carrier owners as they prepare to choose engines for a fresh round of new vessels. The demonstration, in front of around 20 global owners, was held in Korea on December 16th with the support of engine builder Hyundai Heavy Industries Engine & Machinery Division (HHI-EMD).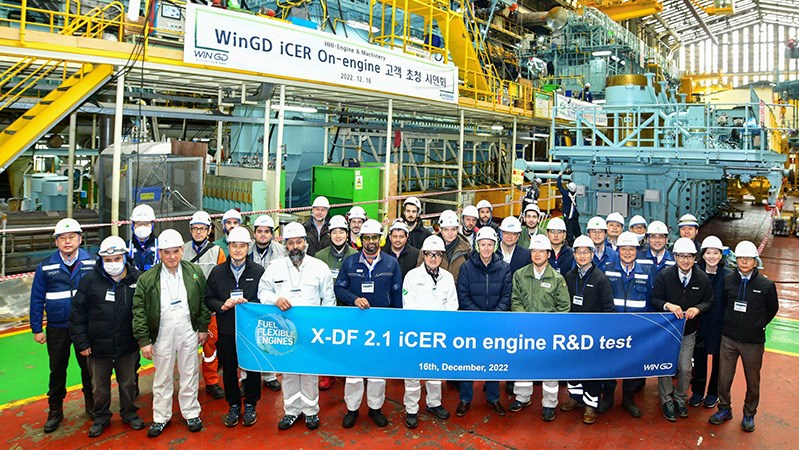 On-engine iCER is the latest configuration of WinGD's intelligent control by exhaust recycling technology, which offers substantial emissions and efficiency improvements on the well-established X-DF dual-fuel engine. Greater combustion control achieved by recycling up to half of the engine's exhaust gas improves fuel consumption in both gas and diesel mode as well as cutting methane slip by 50% compared to X-DF-1.0 engines.
Carmelo Cartalemi, General Manager Global Sales, WinGD, said: "As demand for LNG continues to grow worldwide, the gas carrier market is experiencing historic growth. The growing orderbook coincides with increasing interest in WinGD's X-DF technology. Our latest enhancements build on a track record of reliable and low-cost operation, and we were delighted to take this opportunity to showcase our expertise to prospective customers."
The demonstration showed that the benefits of iCER are retained in the on-engine configuration, which dramatically simplifies installation and commissioning of the engine system. As previously reported, more than 60 X-DF engines with on-engine iCER have been ordered since the new configuration was launched earlier in 2022.
Byungsam Ahn, Managing Director, WinGD Korea, said: "This latest demonstration took place with an X72DF-2.0 engine at HHI-EMD's engine building facility in Ulsan. Our strong cooperation with HHI-EMD has been fundamental in developing the on-engine iCER and the confidence in this technology is reflected in the significant interest we have received from the market."
The X72DF is the market leading engine for modern LNG carriers, with 224 engines in service in the sector and more than 130 on order.
RELATED NEWS