Hat-San Shipyard start of the construction the new floating dock for BLRT Grupp's
23 January at Hat-San Shipyard in Turkey start of the construction the new floating dock for BLRT Grupp's shipyard in Tallinn.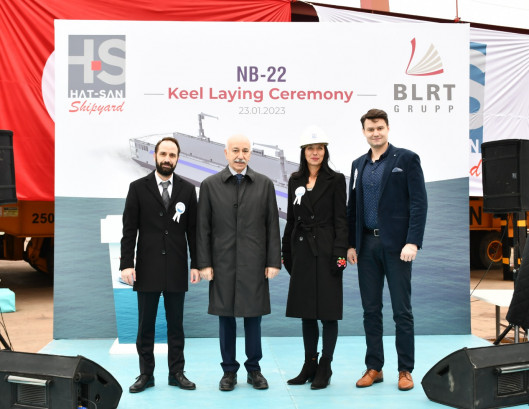 The 180-metre-long, 30-metre-wide, 10,000 tons lifting capacity floating dock is currently being constructed at Hat-San Shipyard in Turkey. The dock is scheduled to be completed in spring 2024.
The new dock will replace the existing one – 155 m long and 27 m wide – and will be able to accommodate Handysize vessels in addition to all the other cargo carriers currently welcomed at the shipyard.
Over 270 ships a year are repaired, upgraded and maintained at BLRT Grupp's ship repair yards in Estonia, Lithuania and Finland. The acquisition of the new dock will work towards expanding the capacity of Tallinn Shipyard by opening the possibility to accommodate larger vessels. Furthermore, ships calling at Estonian ports, which previously had to turn to other shipyards of the holding due to a lack of technical capabilities at Tallinn Shipyard, will now be able to come there.
"The new dock construction is yet another step of the investment programme for the ship repair segment of the industrial holding aimed at a significant expansion of the facilities and resources made available to ship owners at our shipyards. Over the last five years, we have invested more than 75 million euros into that segment, and we have every intention to proceed with the investments in the future," commented Veronika Ivanovskaja, a member of the BLRT Grupp Board.
The construction agreement for the new dock was signed in the late summer of 2022.
BLRT Grupp is one the largest industrial holdings in the Baltic region. The group operates Tallinn Shipyard in Estonia, Western Shiprepair in Lithuania and Turku Repair Yad in Finland, providing comprehensive 24/7 vessel repair and upgrade services.
For slots availability and respective inquiries, please contact Euploia Drydocks and Services Ltd which represents exclusively in Greece the BLRT GRUPP and they will revert with availability & the most competitive offers for your perusal and evaluation.
RELATED NEWS