Edda wind launches Chartwell Marine Daughter Craft for Dogger Bank Wind Farm
Norwegian service operation vessel (C/SOV) provider and operator Edda Wind has launched a Daughter Craft crew transfer vessel (CTV) designed by Chartwell Marine, UK pioneer of next-generation vessel design for the offshore wind sector. This was reported by the press service of Chartwell Marine.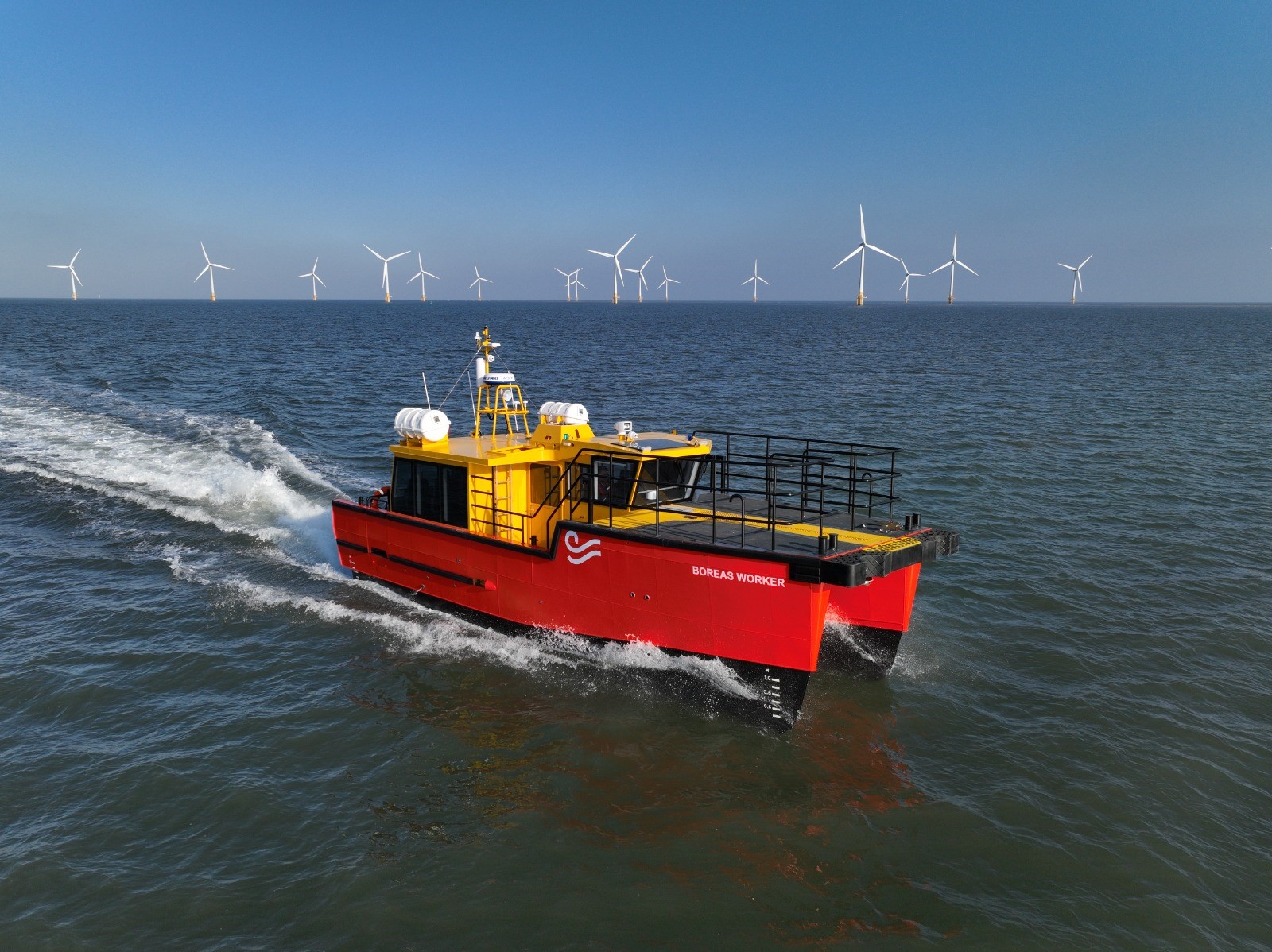 The innovative new vessel has been built by Alicat Workboats Ltd and named Boreas Worker. It was built on behalf of Astilleros Gondan SA before entering service for operator Edda Wind, as part of the firm's contract during commissioning and construction of the first phase of major UK offshore wind farm Dogger Bank Wind Farm.
The 12-metre CTV, which will work in conjunction with Edda Wind's fleet of hydrogen-ready commissioning service operation vessels (CSOVs) on site, is the first of a new catamaran Daughter Craft design to be commissioned.
The Chartwell Daughter Craft responds to the need in the offshore wind support market for low-emissions, cost-effective vessels, with the catamaran's optimised hull form offering efficient fuel use as well as stability and manoeuvrability in choppy waters.
Boreas Worker has a capacity of 12 personnel and is designed to be conveniently deployed from CSOVs and 'floatels' during extended offshore stays, offering wind farm technicians comfortable and efficient access to turbines, vessels, and other critical project infrastructure.
Dogger Bank, a joint venture between energy partners SSE Renewables, Equinor, and Vårgrønn, is set to be the largest offshore wind farm — not just in UK waters, but globally. The three phases of the project, known as A, B, and C, will provide an overall total capacity of 3.6GW, capable of powering up to 6 million homes.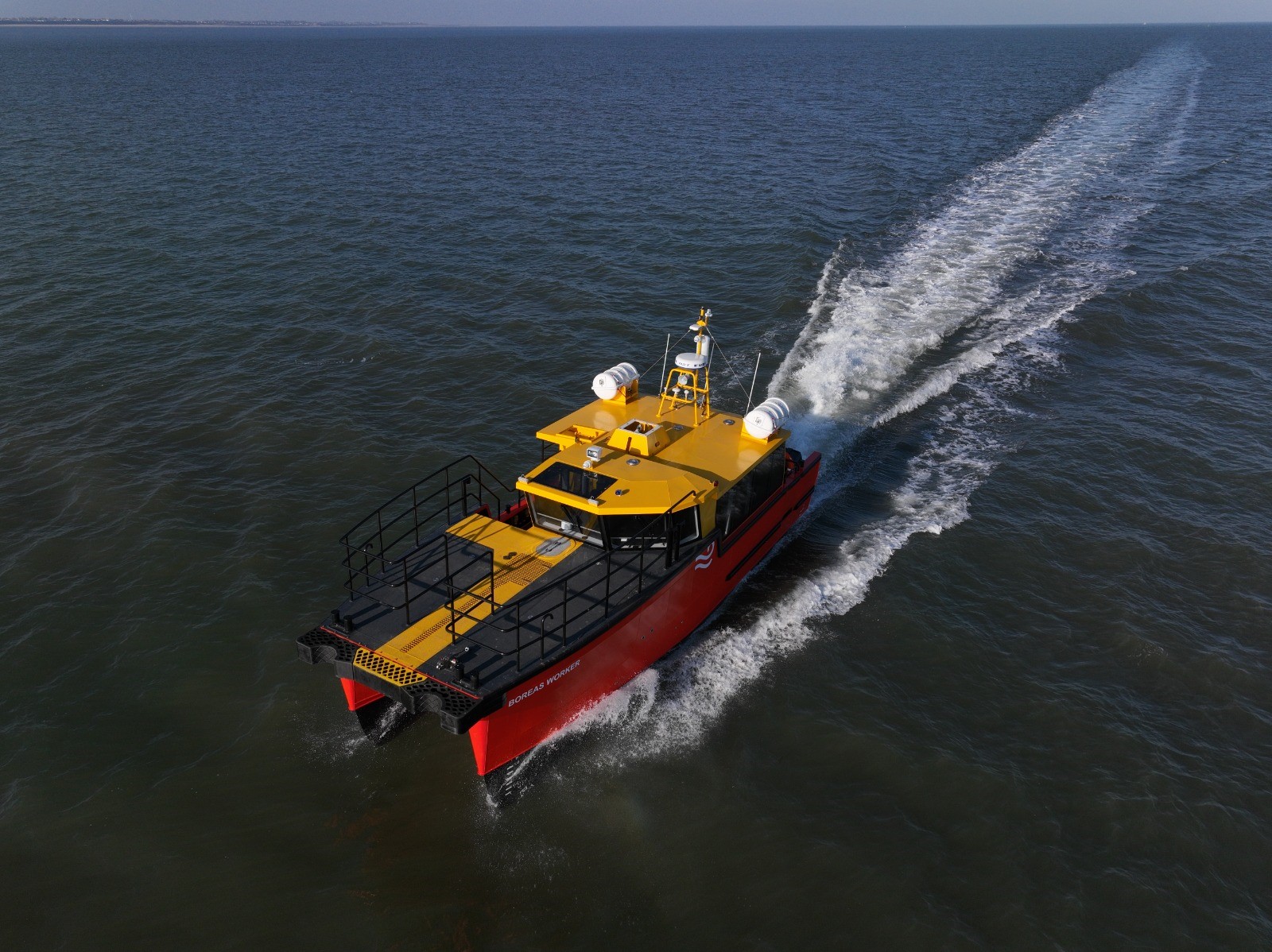 Boreas Worker will form a versatile addition to Edda Wind's fleet as it supports Phase A of construction this spring. The design forms part of Chartwell's expanded offshore wind support vessel range, which has seen orders from across Europe, Asia, and the USA since its launch in June 2022.
Andy Page, Director of Chartwell Marine, said: "The Daughter Craft fulfils a key role in a modern support vessel fleet – giving vessel operators a way to safely transfer engineers from rest-space to work-space while out at sea for longer periods of time, ultimately streamlining the processes of turbine commissioning and maintenance."
"We're excited to be able to contribute our design expertise to an offshore energy project of this scale, and especially one off our own shores. We'd like to thank our partners at Edda Wind for choosing us to help get Dogger Bank built."
Kenneth Walland, CEO of Edda Wind, said: "Daughter craft workboats give more flexibility to our offshore wind operations in addition to the CSOV — and we need to ensure that we set the same standards of technical availability, efficiency, and performance across every vessel in our fleet. Chartwell's proven track record bringing innovative small vessel designs into operation made them a clear choice of partner for this project. We are therefore pleased to launch the Boreas Worker, joining the Edda Boreas in supporting the construction of Dogger Bank."
Dogger Bank Wind Farm Commercial Director, Simon Bailey, said: "The UK-designed & built Boreas Worker vessel will be a welcome addition to our construction and commissioning fleet, providing safe and efficient transfers for our team as we install our first turbines this year."
RELATED NEWS