HMM steps toward carbon neutrality with nine methanol-fuelled 9,000 TEU containerships
HMM announced that it has signed newbuilding contracts with Hyundai Samho Heavy Industries (HSHI) and HJ Shipbuilding and Construction(HJSC) for nine 9,000 TEU containerships powered by methanol dual-fuel engines.
In last July, HMM unveiled a mid-to-long-term strategy to leap forward to be a global top-rated shipping and logistics company through enhancing fleet competitiveness. With the order of methanol-powered containerships, HMM has taken an initial step toward expanding its eco-friendly fleet using alternative fuels.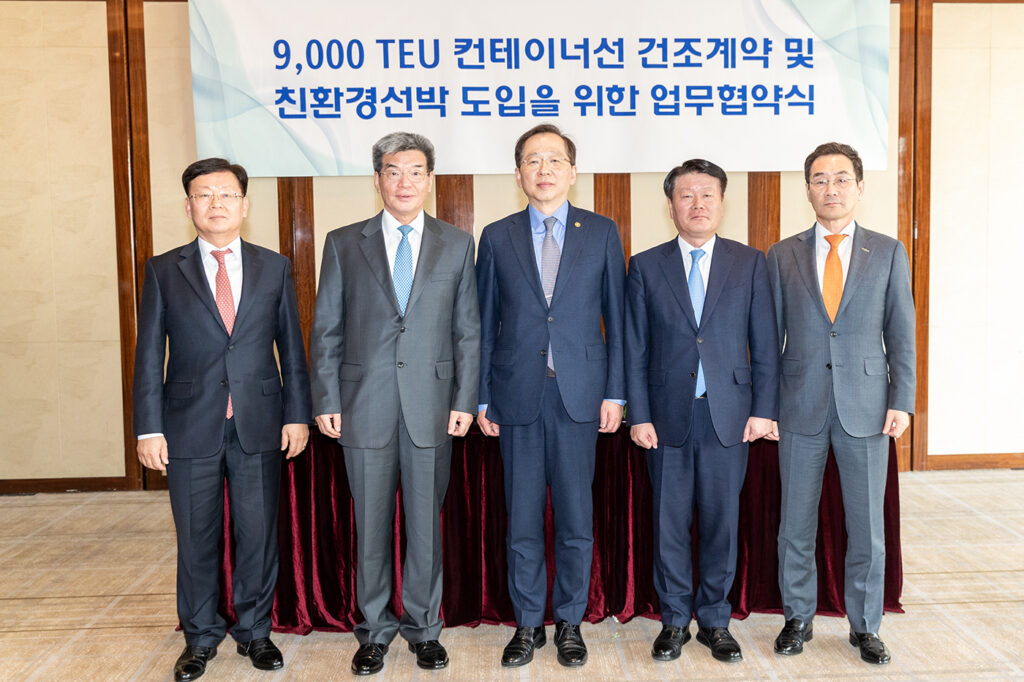 Methanol significantly reduces greenhouse gas emissions compared to conventional oil-based fuels, bringing an immediate improvement in air quality around ports and shipping lanes. Sulphur oxides (SOx) and particulate matter emissions are virtually eliminated and nitrogen oxides (NOx) emissions are cut by 80%.
Furthermore, methanol's biodegradable and water-soluble qualities significantly reduce the risk to marine environments.
Under the agreement, HSHI and HJSC will build seven and two vessels, respectively, costing a total of USD 1.12 billion. The ships are scheduled to be deployed on the Asia-North/Latin America trade lanes and the Asia-India routes, with expected delivery from 2025 to 2026. In particular, green shipping corridors between Busan in Korea and key ports in the U.S. are also one of the potential routes to operate the new ships.
In addition, HMM has signed a Memorandum of Understanding (MoU) with five fuel suppliers, including Proman, PTTEP, European Energy, Hyundai Corporation and so on, to secure the supply of methanol for its newly-ordered vessels.
HMM will conduct a feasibility study with each partner to procure various types of methanol in its main bunkering ports and, subsequently, will collaborate to produce green methanol as part of developing carbon-neutral fuels.
As an environmental initiative, HMM has committed to reaching net-zero carbon emissions across its fleet by 2050. To achieve the target, HMM explores a range of sustainable energy sources, including methanol, LNG, hydrogen, and green ammonia.
"We will continue to drive efforts to support the global community's broader transition to carbon neutrality while at the same time strengthening our fundamental level of future capability in the face of increasingly fierce competition in the global market", said President and CEO of HMM, Kim, Kyung Bae.
Green Shipping Corridors (Korea-U.S.): During the World Leaders Summit of COP27 in November 2022, South Korea and the U.S. announced technical cooperation to accelerate the decarbonization of the shipping industry through the early adoption of zero-emission fuels and relevant technologies. Both governments will implement a feasibility study to explore the potential of creating green shipping routes between major ports in Korea and the U.S.
RELATED NEWS