Fully Autonomous Ship Initiative Recognized by Japan's Cabinet Office at Fifth Japan Open Innovation Prize Ceremony
On Feb 15, NYK and NYK Group companies Japan Marine Science Inc., MTI Co. Ltd., and Kinkai Yusen Kaisha Ltd. have been recognized with Japan's Minister of Land, Infrastructure, Transport and Tourism Award at the fifth Japan Open Innovation Prize ceremony hosted by Japan's Cabinet Office. The companies will continue to work on the social implementation of fully autonomous ships, aiming to address social issues such as labor shortages and maritime accidents in the shipping industry.
Background
The four NYK Group companies are participating in the Joint Technological Development Programme for the Demonstration of Fully Autonomous Ships* under the MEGURI 2040 fully autonomous ship project administrated by the Nippon Foundation (based in Tokyo; Chairman: Yohei Sasakawa). MEGURI 2040, or simply MEGURI, is part of the Designing the Future of Full Autonomous Ships (DFFAS) Consortium,** which comprises 30 companies in Japan. As members of the DFFAS consortium, the four companies incorporated into this project technology and experience so far cultivated in the technological development of maritime autonomous surface ships (MASS). In fact, the consortium successfully conducted a trial simulating the actual operation of a fully autonomous ship between Tokyo Bay and Ise Bay from February 26 to March 1, 2022.
Overview
With the aim of accelerating the creation of innovations for the future of Japan, the Japan Open Innovation Prizes are given by the government to exemplary open innovation projects that challenge new initiatives beyond organizational boundaries, such as industry-academia collaboration, collaboration between large companies and venture companies, and collaboration between local authorities and companies. MEGURI's activities in the field of fully autonomous ships have been recognized as a particularly outstanding initiative from the perspective of promoting science and technology in the field of land transport. In addition to the four NYK Group companies, Mitsubishi Research Institute, Inc. was also recognized with the Minister of Land, Infrastructure and Transport Award on 15 February on behalf of the consortium.This award recognizes the formation of an open innovation consortium of 30 companies (more than 60 including partner companies) from a wide variety of industries not limited to the maritime industry, including shipping, shipbuilding, and marine-equipment manufacturers, and the promotion of activities toward social implementation in a coordinated manner overcoming organizational and disciplinary barriers.
Future Developments
Automated and unmanned ship technologies can help to solve various social issues, such as resolving labor shortages and reducing the labor burden in the shipping industry, preventing maritime accidents, and maintaining remote island shipping routes. The four NYK Group companies will continue to collaborate with relevant parties and work toward the social implementation of this technology.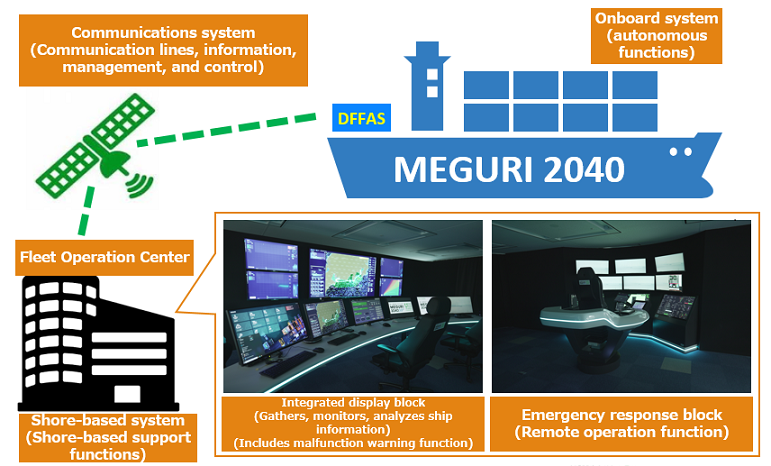 Overview of unmanned operation systems developed by the DFFAS consortium. (The vessel's navigation status can be monitored from the land-based system and switched to remote maneuvering in case of emergency). Courtesy of the DFFAS Consortium.
* A subsidization scheme to cultivate further momentum for technological development in the field of crewless maritime autonomous surface ships, promoting changes in logistics, economies, and social infrastructure in Japan, and supporting such technological development through the success of the world's first crewless autonomous operation trials by domestic coastal vessels.

** Companies participating in the DFFAS project include Japan Marine Science Inc. (project leader); MTI Co., Ltd.; Ikous Corporation; BEMAC Corporation; Kinkai Yusen Kaisha Ltd.; SKY Perfect JSAT Corporation; Tokio Marine & Nichido Fire Insurance Co., Ltd.; Tokyo Keiki Inc.; Nippon Telegraph and Telephone Corporation; NTT DOCOMO, Inc.; Japan Radio Co., Ltd.; Mitsubishi Research Institute Inc.; Sunflame Co., Ltd.; Sanwa Dock Co., Ltd.; Suzuyo Marine Co., Ltd.; Furuno Electric Co., Ltd.; Weathernews Inc.; EIZO Corporation; Mitsui Sumitomo Insurance Company, Limited; NTT Communications Corporation; Japan Hamworthy Co., Ltd.; Japan Marine United Corporation; Nabtesco Corporation; NX Shipping Co., Ltd.; pluszero Inc.; Honda Heavy Industries Co., Ltd.; Miura Co., Ltd.; Nihon Shipyard Co., Ltd.; YDK Technologies Co., Ltd.; and NYK.

Source: NYK Group.
RELATED NEWS