Polar expedition cruise ship Ocean Albatros successfully completed sea trials
The 6th polar expedition cruise ship 'Ocean Albatros', built by China Merchants Industry Haimen Base, returned to the dock. After eight days of continuous struggle, she successfully completed the trial mission. During the sea trial, the equipment was found to be in good running condition, the ship's operating performance is superior, and all the indicators are in line with the design standard, which has been unanimously recognized and praised by the ship owner and Class.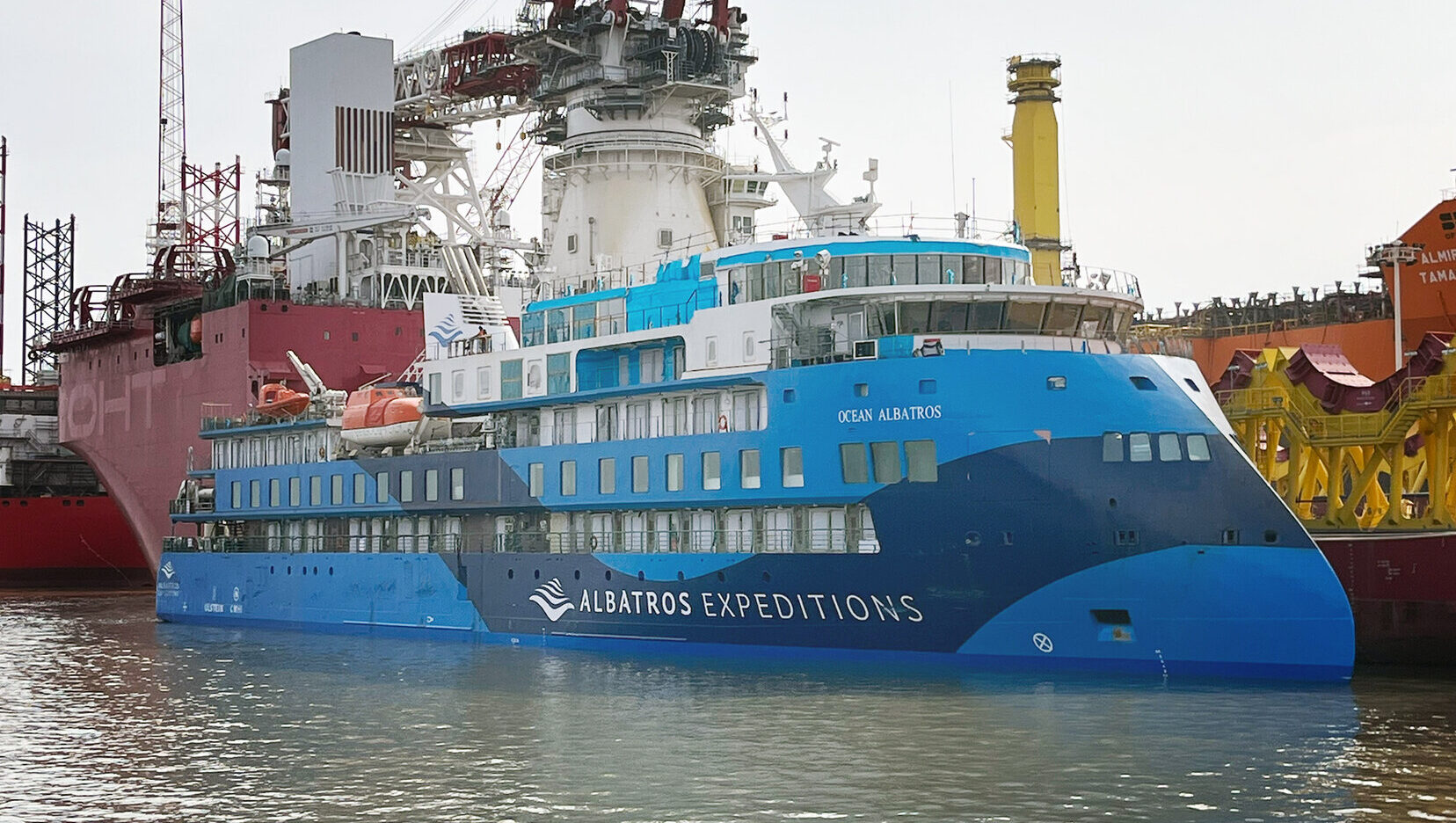 Ocean Albatros is one of the vessels in the SunStone Ships' INFINITY Class, of which all are designed by Ulstein Design & Solutions AS. Although the vessels are all based on the CX103 design, they are also all customised. Some have a row of triangular-shaped windows in the bow part, and they have accommodation for various numbers of passengers, and different public space designs and expedition logistics. Still, they all have the X-BOW, which facilitates large spectacular lounges in the bow part. This solution also optimises the passenger experience, it gives everybody on board great views directly to the sea level, both from the lower and higher positions on deck. Thus, wildlife spotting is significantly improved.
By parting the waves, the X-BOW eliminates slamming and shaking, ensuring a smoother ride in rough crossings. Consequentially, the travel time will be reduced, and the passengers can enjoy more time at their destinations. Due to this, fuel consumption will also be reduced, making this vessel a better choice for the environment.
The charterer, Albatros Expeditions, which also operates the sister vessel, 'Ocean Victory', has announced record-low emissions per passenger for that vessel. The ship uses 60% less energy, and these results are explained by stating that the "Ocean Victory has Tier III compliant engines that limit the amount of nitrous oxides. Secondly, the vessel only burns marine gas oil, which emits less CO2 per ton burned compared to heavier bunker fuel. Thirdly, the X-BOW is fantastically efficient, especially with surf and in rougher seas. And lastly, the vessel has a fully optimised compact design, providing comfortable space in only 104 metres length and just over 8,00 gross tonnage.".
All the vessels in the INFINITY class, including the Ocean Albatros, have Tier III engines with SCR catalysts to reduce emissions. They run on low-sulphur Marine Gas Oil (MGO), and have heat recovery systems and LED lights. On top of this comes the wastewater treatment and management system that cleans the wastewater before discharging it.
These ships have zero-speed stabilizers and dynamic positioning and are built to Polar Code B, with Polar Class 6 (Ice Class 1A on machinery) notation.
The Ocean Albatros will join the Albatros Expeditions' fleet in May 2023. The vessel will be visiting Antarctica and the Arctic and exciting destinations between these polar areas.
RELATED NEWS